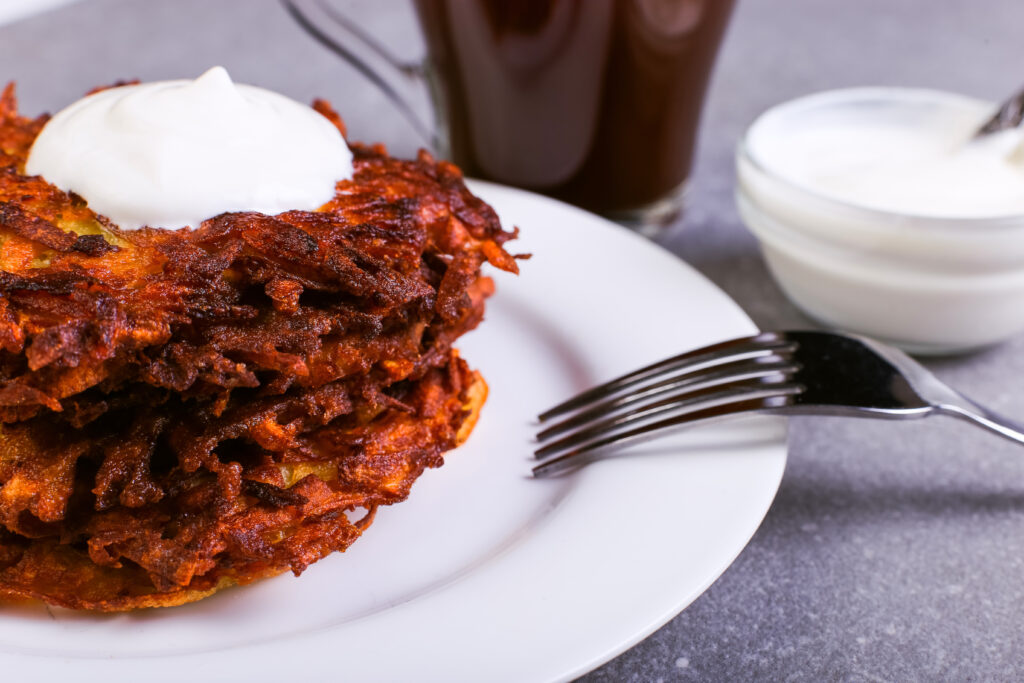 Way back in the deep, dark mists of time, I fell in love with and married my husband.
Okay, so it was the early nineties, but that was still over 25 years ago.
With all families, there's a melding of traditions but in our case, it took a lot of study on my part. You see, before I met him, I had probably met only a handful of Jewish people in my life (I blame growing up in New Hampshire).
One of the things I took to earliest was cooking, because at least with my family, creating delicious food for holidays is an expression of love.
This year we celebrated Thanksgiving on Thursday afternoon and Hanukkah on Thursday evening. As the family gets larger and larger, it's tougher for all of us to get together. Since Hanukkah actually begins on Sunday night, we decided it was close enough.
Let me tell you, there was so much food! Turkey, stuffing, mashed potatoes, green beans, turnip, gravy, cranberry sauce…I feel like I'm forgetting some things, and about eight different desserts.
My two oldest nephews each made pecan pie and we had a taste test. One was a honey praline topped pecan pie and it was fantastic. The other was a chocolate and caramel pecan pie which was incredible with ice cream.
After we had a couple hours to clean up from lunch we started in on dinner and potato latkes.
One of the things I like best about Hanukkah is that I don't do the cooking. I cook for every other holiday in the year and I really enjoy my evening off while my husband cooks. He also made the turkey and will do anything I ask for other holidays, but knowing I have no responsibilities for that meal is lovely.
I thought I'd share his recipe for potato latkes with you.
The best husband makes the best latkes recipe
Ingredients:
8 russet potatoes
2 yellow onions
8 eggs
Matzo meal
Adobo
Vegetable oil for frying
Sour cream
Applesauce
Instructions:
First off, I apologize because everything is done "to eye" (since you don't want to taste raw potatoes and eggs). The good news is that you can't go wrong with this recipe – it's very forgiving.
Peel the potatoes.

Cut the potatoes and onions into pieces a little bigger than your thumb.

We run our potatoes and onions through a grinder but some people prefer shredded instead. Do whatever you want. Maybe try both to see what you like best.

Add eggs and mix

You now have a glorpy mess. It should be this way. Add in maybe ¼ can of matzo meal, more if the latke mix is still quite loose.

Add in more adobo than you think you could possibly need. At least 1/8 a cup.

Fry the latkes in hot oil until deep golden brown.

Drain on paper towels and serve with sour cream or applesauce.