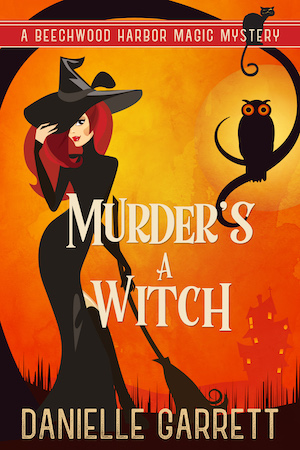 First I'd like to note that this series has a prequel, A Witch of a Day, which you can get here. It's not necessary to read first, but it's free, so why not?
Quick and hopefully spoiler-free synopsis:
Holly Boldt has a lot of secrets that she needs to keep now that she's been moved to a halfway house for misbehaving supernaturals in the town of Beechwood Harbor. She's always lived in havens, cities built by and for supernaturals, so she's got to keep her talents a secret from the non-magical town residents.
She doesn't do a great job of it but so far, she hasn't been caught. She limits herself to drawing beautiful latte art and selling the occasional potion to other supernaturals who live in the town.
She lives in the halfway house, Beechwood Manor, with the landlady Posy (a slightly unhinged ghost), and three roommates: Adam (a flirtatious shifter), Lacey (a beauty pageant contestant and vampire) and Gary (a creepy guy with a bad vibe).
Her boss at the coffee shop is murdered and her closest friend is accused. Holly knows she needs to investigate the murder to keep her friend out of jail, because the police have got it all wrong.
What I liked:
I liked the worldbuilding in this book. Sometimes it takes an author more than one book to really flesh out their world but the author has done a good job of allowing us to see some of the hierarchy of supernaturals, as well as the supernatural protection agency. We have a clear idea of what magic can do (even better if you read the prequel) and how Holly can use hers.
What I learned:
Holly is a witch that is fully in control of her abilities and that can still make for a compelling character because the troubles she comes across are ones in the mundane world, not ones that have to do with the power she mostly can't use.
What I didn't like:
I feel like there may not have been enough suspects in this book. I would have liked Holly to investigate a bit more, and that way we could have also seen more of the town in this first book.
Will I read more of the series?
Absolutely.
Obligatory Star Rating: 4.8/5, but obviously rounded up to 5 stars on review sites.